Florida sits in 2nd place after two days of competition
By Benjamin Schmitz | Thursday, March 24, 2016
Photo Courtesy: Peter H. Bick
ATLANTA — Caeleb Dressel made history once again in the 50-Yard Freestyle tonight, swimming to an NCAA, U.S. Open, and American record with a blazing time of 18.20. The sophomore standout claimed the second National Title of his career and helped propel the Gators into second place after two days of competition at the NCAA Championships.
Just a sophomore, his time of 18.20 bests a number of historic performers, including three-time Olympic Gold Medalist Nathan Adrian's (18.66), Cesar Cielo's — the most renown swimmer in Brazilian History — (18.47), and former Gator Great Ryan Lochte's 18.62 split.
It wasn't just Dressel that stood out on Thursday. Florida placed five Gators in tonight's finals in addition to a pair of relay teams. In addition, The Orange and Blue accounted for three school records and five career-best times on the afternoon.
Junior Mitch D'Arrigo shined in the 500-Yard freestyle, touching out with a time of 4:09.98. The Italian freestyler's mark stands as a Florida school record and brought in 17 team points for the Gators. Senior Pawel Werner also generated nine points off a ninth-place finish, coming in with a time of 4:13.79.
In the 200 Individual Medley, the Gators received a pair of strong finishes from sophomore Jan Switkowski and Mark Szaranek. Switkowski posted an eighth-place time of 1:42.15 in the prelims to finish eighth, and went even lower in the finals to place fourth overall with a 1:41.36. Szaranek also bettered his prelims time (1:42.03) with a sixth-place finishing 1:41.59. Both times stood as career-bests for the two sophomores and rank fourth and fifth in the Florida record books.
UF's 200-Yard Freestyle relay team opened the finals session on a high note when the quartet of Dressel, Szaranek, junior Jack Blyzinskyj, and senior Corey Mainclocked a school record time of 1:16.21. It was the second time the foursome broke their own school record after previously besting their SEC Championships time (1:16.46) in the prelims with a 1:16.25.
The 400-Yard Medley Relay capped off a strong day for the Gator Men. The group of Dressel, Szaranek, Blyzinskyj, and Main posted a time of 3:05.19, which finished fifth overall and brought in 28 points. Overall, Florida amassed 131 team points today which puts them in second place with a two-day total of 163.
In the diving well, freshman Sam Smith made his NCAA Championship debut, competing from the 1-Meter competition and diving to a score of 315.40. The score ranked 24th among the country's best. The Knoxville, Tennessee, native got off to a fast start in the prelims, posting his top score (61.10) on his opening dive. A slight miss on the third and sixth dives eliminated him from tonight's finals session. Smith will return for platform competition on Saturday.
Click here for a compete recap from Day Two preliminary competition.
Florida Head Coach Gregg Troy on Day Two Competition:
On Mitch D'Arrigo's School Record in the 500-Yard Freestyle
"Mitch's had a good week of competition. We thought he was going to go fast, we just didn't know how fast."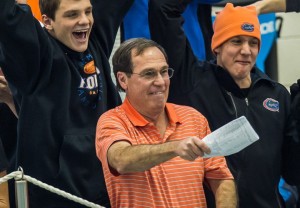 On Caeleb Dressel's 50-Yard Freestyle Performance
"Caeleb has looked real good too. He's been real consistent and we expect him to go low. He's got close to the six fastest times ever swam in the 50-Yard Freestyle and they've all been swam in about the last month. He's done a good job training and stays focused.
On the team's ability to compete at a high level week after week
"A lot of it relates to what kind of training you do in the fall. We've got a good group of upperclassmen who have been around and know what to expect. These guys did a good job in the fall and it's good to see that work paying off this time of the year."
Florida Diving Head Coach Dale Schultz on Smith's Performance:
"I was excited with the way Sam started the contest today. I thought he looked a little tight on the last couple dives. It was exciting for him to be in such a great atmosphere and he may have pressed a little too hard. I'm looking forward to the platform event on Saturday."
Sophomore Caeleb Dressel on Day Two at the NCAA Championships:
"It felt pretty good racing. The NCAAs are always fun because you're with the best of the best and it's always a pleasure (click on the picture to see Caeleb's record 50 free).
"And it was just me that swam well today. Mitch [D'Arrigo] had a huge swim coming in second for us in the 500-Yard Freestyle with a school record. And our 200-Freestyle relay was outstanding this morning – they broke the school record twice and that was awesome to see.
"We're getting off to a good start and we're looking forward to the rest of the week."
Record-Breaking Weekend
The Gators have an early start on what they hope will be a week full of new school Florida records. Last night, the Gators took down the 800-Yard freestyle record, while Day Two competition featured a new 200-Yard Freestyle Relay, and 500-Yard Freestyle mark.
800-Yard Freestyle Relay: P. Werner, J. Switkowski, M. Szaranek, & M. D'Arrigo (6:09.84).
200-Yard Freestyle Relay: C. Dressel, C. Main, J. Blyzinskyj, M. Szaranek (1:16.21).
500-Yard Freestyle: M. D'Arrigo (4:09.98).
50-Yard Freestyle: C. Dressel (18.20).
Gator All-Americans
In NCAA swimming and diving, athletes and relay teams who make the championship final (top eight) are considered First-Team All-Americans. Athletes and relay teams that qualify for the consolation final (determines places 9-16) are considered Honorable Mention All-Americans.
This Week's All-America Honors:
All-America Honors
J. Blyzinskyj (2): 200 FR,  400 MR.
M. D'Arrigo (2): 800 FR, 500-Yard Freestyle.
C. Dressel (3): 50-Yard Freestyle, 200 FR, 400 MR.
C. Main (2): 200 FR, 400 MR.
J. Switkowski (3): 800 FR, 200 IM, 400 MR.
M. Szaranek (3): 800 FR, 200 IM, 200 FR.
P. Werner (2): 800 FR, 500 Free*
(*) – Denotes an Honorable-Mention All-America Honor