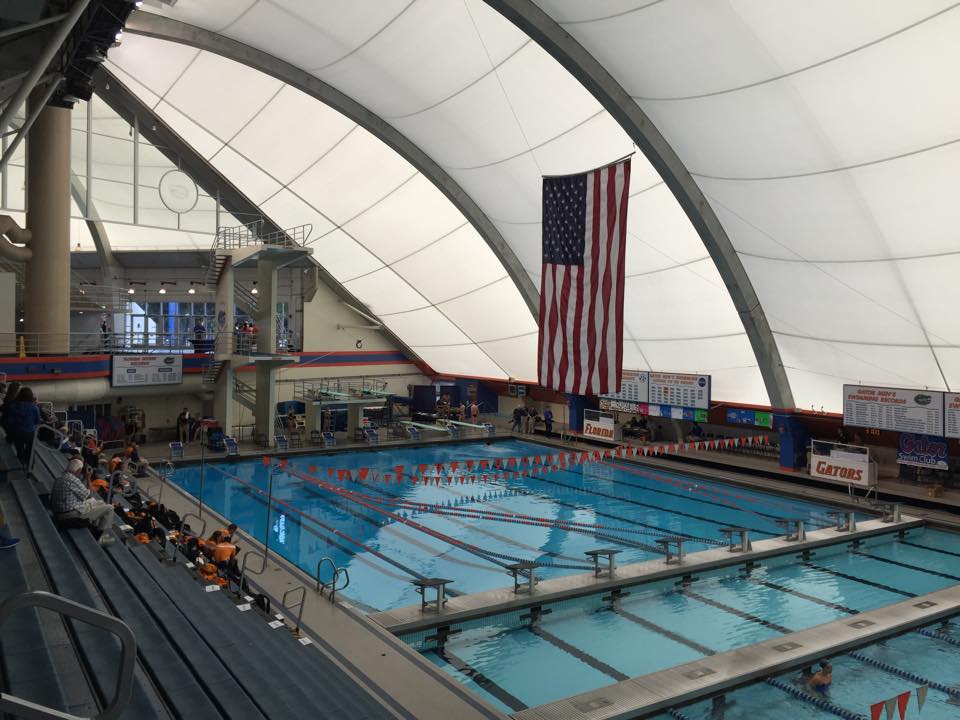 Saturday January 31, 2015  —GAINESVILLE, Fla. 
Thanks to Florida Swim Network for the great live stream coverage and interviews!
You can watch the Gator Post-Meet Show Video here on Florida Swim Network

The No. 7 Gator men's and women's swimming & diving team's sent their senior swimmers off in style, as they each nabbed victories over Tennessee's No. 11 men's squad and 10th-ranked women's team in front of a full house Saturday afternoon in the Stephen C. O'Connell Center Natatorium. Florida dominated the meet winning 23-of-32 events and downing the Volunteers by scores of 198.5-99.5 (men) and 187-105 (women).
Florida's women (6-2, 5-1 SEC) continued its tremendous success against Tennessee, as the Gators now hold the all-time series lead 27-2. Meanwhile, UF's men (6-1, 4-1 SEC) created a little separation from UT all-time, as the Gators now lead that battle, 22-20.
Senior Matt Elliott paced the senior class and Florida's men's squad after winning both the 100-yard and 200-yard breaststroke races in NCAA 'B' standard times of 54.02 seconds and 1:56.05, respectively.
On the women's side, the Gators were led by junior Natalie Hinds, as she won two individual events (50-yard freestyle, 22.55; 100-yard butterfly, 52.92) and was a member of UF's first-place 200-yard medley and 400-yard freestyle relay teams. On the boards, UF was led by junior Kahlia Warner, as she placed first on both the one-meter and three-meter dives with a score of 323.25 and 320.70 points, respectively.
Both squads continued their domination in the O'Dome, beginning with men as they have are now unbeaten in their last 20 home dual meets, including a perfect 3-0 this season. In addition, Florida's women's squad has posted a solid 15-4 mark over the past four seasons in Gainesville.
Next up, Florida will head back to Auburn Ala. for the Southeastern Conference Championships which begin on February 17th and conclude on the 21st.
TROY'S TALKING
On today's meet overall…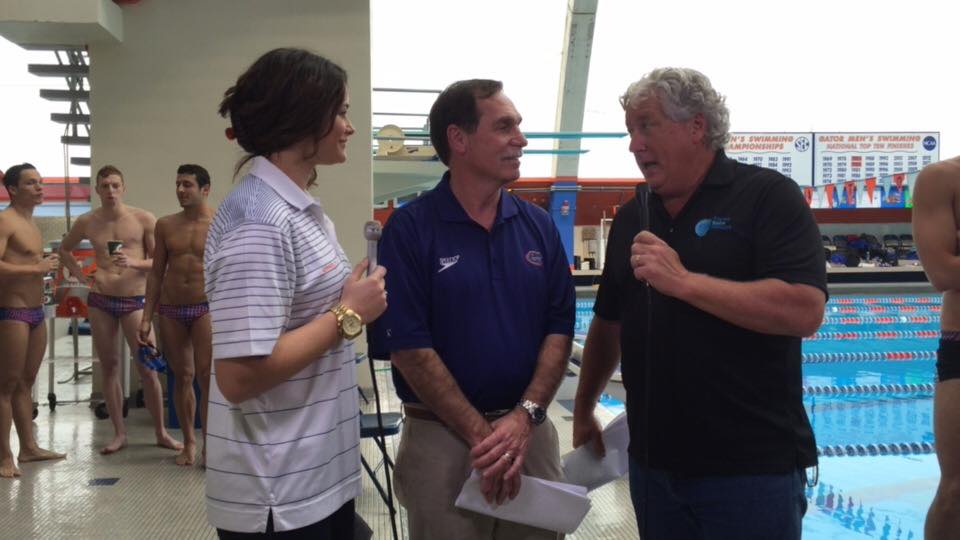 "It was a fantastic Senior Day. We had great efforts all the way around, which created a lot of enthusiasm. I'm just really pleased with some of the swims we got out of some of our athletes. Theresa Michalak was outstanding on the women's side. Jess Thielmann continues to do well and Natalie Hinds was a great too. The men's side was excellent all the way through. They've made it really hard for our conference travel list because we've got so much depth down the line but that's a good problem to have. We've still got some things to work on but today was certainly a good indication of what we like to see."
Head Coach Gregg Troy
RELAY MAGIC
The Gators began and ended to the meet with victories as UF swept all four relay events. In the women's races, Hinds partnered with junior Lindsey McKnight, redshirt freshman Theresa Michalak and freshman Amelia Maughan in the 200-yard medley (1:39.33) and with McKnight, Maughan and junior Ashlee Linn in the 400-yard freestyle (3:19.14).
On the men's side, seniors Christian Homer and Ricky Munch, junior Corey Main and freshman Caeleb Dressel won the 200-yard medley with a mark of 1:26.60. To close out the meet, Dressel and Munch paired up with junior Pawel Werner and freshman Mark Szaranek to place first in the 400-yard freestyle with a time of 2:57.05.
GOING THE DISTANCE

Junior Jessica Thielmann swept the distance events, winning the 500-yard freestyle in 4:44.30 and the 1,000-yard free in 9:37.22. Senior Dan Wallace and junior Arthur Frayler earned points for the Gator men by placing first in each of those same two events with        times of 4:23.80 and 8:58.53, respectively.
BACK IT UP
The Florida women took home both backstroke races, beginning with Linn in the 100 (54.13) and redshirt freshman Georgia Hohmann in the 200 with a time of 1:56.93. Homer won the 100 back for the men in 47.64 seconds.
I BELIEVE I CAN FLY
In addition to Hinds, Dressel notched the other Gator butterfly win in the 100-yard men's race, as he clocked a time of 47.43 seconds.
FREESTYLING
UF's men won all three sprint events with Werner in the 100-yard and 200-yard races in times of 44.25 seconds and 1:35.83, respectively, while Dressel completed the Gator sweep in the 50-yard free with a mark of 19.51 seconds.
In addition to Hinds, Maughan captured her first career individual event victory as she placed first in the 200-yard freestyle with a time of 1:46.82.
DOING IT ALL
Michalak capped off her fantastic Saturday with a win in the 400-yard individual medley as she clocked a time of 4:09.50.
POSTSEASON FOCUS

In addition to an outstanding night of first-place finishes, UF recorded 41 NCAA 'B' standard marks throughout the dual meet.