Christen McDonough  for SwimSwam
After the final session of the Georgia Tech Invite, the University of Florida won both the Men's and the Women's meets. In the Men's meet, Florida finished almost 1000 points ahead of the second place team, Georgia Tech. In the Women's meet, the runner-up was Arkansas, finishing 498 points behind Florida.
One of the highlights of Day 3 was the Women's 1650 Freestyle. Florida's Jessica Thielmann finished first in a blowout win, capturing an NCAA A cut time of 15:50.74. Thielmann's teammates, Taylor Roy and Megan Rankin, achieved NCAA B cuts and took second and third in 16:16.55 and 16:16.55, respectively.
The Men's 1650 Freestyle was also a Florida showdown. Florida's Mitch D'Arrigo took first in an NCAA B cut time of 14:54.21. Behind D'Arrigo were his teammates Carlos Omana (14:56.21), Arthur Frayler (15:00.91), Dan Wallace (15:16.42), and Yuval Safra (15:19.36), all with NCAA B cuts as well.
In the Women's 200 Backstroke, all of the top eight finishers clocked NCAA B cut times. The first place finisher was Sinead Russell of Florida in 1:53.65, followed by Anna Mayfield of Arkansas (1:54.84) and Georgia Hohmann of Florida (1:55.70).
Jack Blyzinskyj of Florida claimed the Men's 200 Backstroke in an NCAA B cut time of 1:43.70. Finishing just .1 seconds behind Blyzinski was Corey Main of Florida in 1:43.80. The Florida men also claimed third and fourth place in this event.
Next up was the Women's 100 Freestyle. In first place was Natalie Hinds of Florida in 47.98. Following Hinds were Emma Svensson of Florida Gulf Coast University in 48.59 and Kaitlyn Dressel of Florida State in 48.98, both NCAA B cut times. In the Men's 100 Freestyle, Andrew Kosic of Georgia Tech claimed a win in 42.74. In second was Caeleb Dressel of Florida and in third was Pawel Werner, also of Florida.
Arkansas senior Nikki Daniels won the Women's 200 Breaststroke in 2:11.66, an NCAA B cut. Lindsey McKnight of Florida placed second in 2:14.50, and Christina Loh of Indian River finished third in 2:14.91. In the Men's 200 Breaststroke, Eduardo Solaeche-Gomez of Florida took first in a 1:56.16. He was followed by Jason Coombs of Florida State (1:58.92) and Erik Kahr of Florida (1:59.09). All of these times are NCAA B cuts.
Chelsea Britt of Florida State finished first in the Women's 200 Butterfly in a time of 1:57.45. Florida's Alyssa Yambor-Maul placed second in the event, finishing in a time of 1:58.52, while her teammate Taylor Katz of Florida touched the wall in third with a 1:58.60. All three of these women clocked NCAA B cut times. In the Men's 200 Butterfly, Connor Knight of Florida State won the event in 1:44.70. He was followed by Ben Southern of Georgia Tech (1:45.54) and Florida State's Cole Hensley (1:47.11).
The final events of the night were the Women's and Men's 400 Freestyle Relays. In the Women's event, Florida's McKnight, Russell, Hinds, and Ashlee Linn won in3:16.07. Florida Gulf Coast claimed second in 2:18.06 followed by Arkansas in 2:18.86. In the Men's event, Florida's A squad of Dressel, Corey Main, Werner, and Wallace took first in 2:53.21, an NCAA B cut time. Georgia Tech's A relay claimed second, followed by the A relay of Florida State.
Men's Teams Final Scores:
Florida – 1954
Georgia Tech – 981
Florida State – 900
Indian River – 558
Florida Atlantic – 352
South Carolina (diving only) – 131
Auburn (diving only) – 102
Utah (diving only) – 72)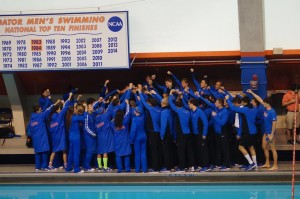 Charleston (diving only) – 4
Women's Teams Final Scores:
Florida – 1359
Arkansas – 861
Florida State – 686
Florida Gulf Coast – 573
Vanderbilt – 449
Georgia Tech – 371
Florida Atlantic – 353
Miami – 348
Bowling Green – 286
Colorado State – 251
Indian River – 213
South Carolina (diving only) – 151
Campbell – 120
Auburn (diving only) – 98
Clemson (diving only) – 63
Utah (diving only) – 37
Tulane (diving only) – 10
Complete results can be found at http://www.ramblinwreck.com/sports/c-swim/stats/2014-2015/2014gtinvitecompleteresults.html.