Saturday November 8, 2014 – Gainesville, Fla.
No. 5 Florida defeats No. 19 Minnesota, 167-125 
GatorVision Recap / Complete Results
The University of Florida's No. 5-ranked men's swimming & diving team defeated No. 19 Minnesota, 167-125. Meanwhile, UF's No. 11 women's squad fell to the No. 10-ranked Gophers, 183-117, on Saturday afternoon in Gainesville.
The Gators registered 15 NCAA 'B' standard times throughout the dual meet. The UF men are now 3-1 overall, while the loss dropped the women to 3-2.
In the overall series, Florida's men are now 5-1 all-time against Minnesota, and the Gator women dropped their first dual meet against the Gophers, as the series is now, 2-1.
Senior Eduardo Solaeche-Gomez paced the men's squad, as he notched first place finishes in both the 100- and 200-yard breaststroke races with times of 54.90 seconds and 2:00.15, respectively. His mark in the 100 breast was an NCAA 'B' standard time.
Junior Natalie Hinds led the Gator women, as she clocked two individual NCAA 'B' standard times in the 50- and 100-yard freestyle races. Hinds finished runner-up and first in each event with times of 22.91 and 49.60 seconds, respectively. In addition, Hinds was a member of UF's winning 200-yard medley relay team along with classmates Sinead Russell, Lindsey McKnight and Sierra Kuhn, as they clocked a time of 1:41.20.
Florida has just two meets left in 2014, beginning with the Georgia Tech Invitational from Nov. 20-22 in Atlanta, Ga. The final meet of the calendar year is from Dec. 4-6 in Greensboro, N.C. as UF will compete in the U.S. Nationals.
TROY'S TALKING
On who impressed him…
"On the women's side, Georgia Hohmann was real good for us. She and Ashlee Linn are both coming off injuries, and they overcame some things and swam really well today. Natalie Hinds has raced and trained well all season long and Jessica Thielmann continues fighting off all the big bullets coming at her. On the men's side a lot of guys swam well. I was really impressed with Carlos Omana, whose results didn't end up in wins, but he did really well today. He was a little disappointed after last week's meet and he came back and had a great week of training and stepped up. Mark Szaranek is showing a lot of versatility in a lot of areas and Corey Main was really good. Overall, those guys were really good." — Head Coach Gregg Troy
O'DOME DOMINANCE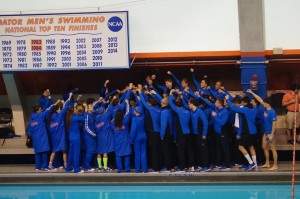 The men's team has experienced great success at home since 2010, as the Gators are now unbeaten in their last 19 dual meets in the O'Dome.
RELAY MAGIC
In addition to the Gator women winning the 200-yard medley relay, UF's men topped that race as well, as seniors Matt Elliott and Christian Homer, junior Corey Main and freshman Caeleb Dressel clocked a time of 1:27.91.
GOING THE DISTANCE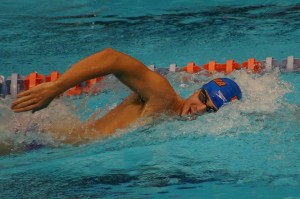 Sophomore Mitch D'Arrigo and junior Jessica Thielmann each won the men's and women's 500-yard freestyle in NCAA 'B' standard times of 4:23.47 and 4:47.17, respectively.
BACK IT UP
Sophomore Jack Blyzinskyj and Main swept the men's 100- and 200-yard backstroke races in times of 48.58 seconds and 1:46.36. On the women's side, Russell and redshirt freshman Georgia Hohmann won each race with marks of 54.50 seconds and 1:56.25. Main, Russell and Hohmann's times were all NCAA 'B' standard marks.
FREESTYLING
Dressel and D'Arrigo won the 50- and 200-yard freestyle races in NCAA 'B' standard times of 20.00 seconds and 1:37.14, respectively.
COME FLY WITH ME
Senior Christian Homer and Elliott swept the men's 100- and 200-yard butterfly races with marks of 48.60 seconds and 1:48.75, respectively.
POSTSEASON FOCUS
In addition to UF's first-place finishes, the Gators recorded 15 NCAA 'B' standard marks throughout the dual meet. They were:
Mitch D'Arrigo (200 Free, 1:37.14; 500 Free, 4:23.47)
Caeleb Dressel (50 Free, 20.00)
Matt Elliott (400 IM, 3:50.36)
Corey Main (200 Free, 1:37.22; 200 Back, 1:46.39)
Carlos Omana (400 IM, 3:53.53)
Eduardo Solaeche-Gomez (100 Breast, 54.90; 200 Breast, 2:00.15)
Dan Wallace (400 IM, 3:51.86)
Natalie Hinds (50 Free, 22.91; 100 Free, 49.60)
Georgia Hohmann (200 Back, 1:56.25)
Sinead Russell (100 Back, 54.50)
Jessica Thielmann (500 Free, 4:47.17)