Day 4 recap 2017 U.S. Winter National Championships
2017 U.S. WINTER NATIONAL CHAMPIONSHIPS
November 29th-December 2nd
Bill and Mae McCorkle Aquatic Pavilion, Columbus, OH
Short Course Yards
Zane Grothe's American Record Highlights Fourth Night of 2017 AT&T Winter Nationals
Men's 1650 Free
Another distance event, another American Record for 25-year-old Zane Grothe. Two nights after posting the first sub 4:08 swim in the 500 free, Grothe was back and performing his best Ledecky impression in the 1650 free. Grothe jumped to an early start and never looked back, continuing to propel himself forward away from the competition and past the existing American Record of 14:22.41. At one point in the race, Grothe was an astonishing full six seconds beneath the American Record mark. He went on to finish the race with a time of 14:18.25, establishing new American, U.S. Open, and Championship records in the process.
Holding steady at second throughout the race was Mitch D'Arrigo. D'Arrigo, a constant in the distance scene, grabbed the silver medal with a time of 14:43.87. Rounding out the podium was Marcelo Acosta with a time of 14:54.95.
Christopher Bready finished fourth overall with a time of 14:56.62, followed by Jack Collins and his time of 14:56.95.
Theodore Smith (15:02.21), Graham Barrett (15:06.16), and Nick Hogsed (15:06.35) were sixth through eighth.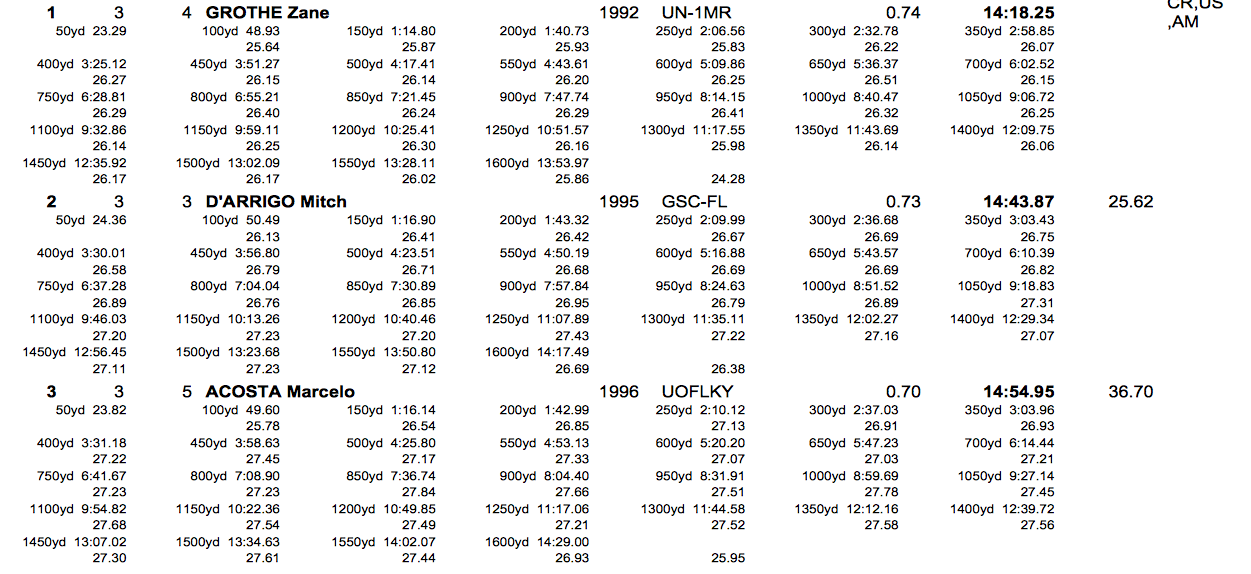 Americani d'inverno: i 100 sono di Adrian, i 1650 di Grothe l'incredibile su D'Arrigo